Best Online Yoga Classes
Live and Interactive Yoga Content You Can't Find Anywhere
Create a healthy routine from our daily Online classes Yoga Asana and Pranayama to help you stay healthy, active, calm and focused.
Led by Prashant J Yoga, Team at Yoga Vidya School welcome you all to join our daily online yoga classes. Here you will get authentic and insightful sessions related to healthy lifestyle, Hatha Yoga Asanas, Ashtanga Yoga Sadhana, Pranayama, Meditation, Mindfulness and Yogic Philosophy. Our online yoga classes are suitable for all levels of yoga practitioners, beginners to experienced. Guided by highly experienced yoga teachers, you will find exciting yoga classes revolving around strengthening the body, flexibility, correct alignment, detox, hamstrings, hip opening, inversions and so much more. Duration ranges from 60 minutes to 90 minutes, we offer classes with multiple-time options so that you can join when its convenient for you and your personal and professional schedule.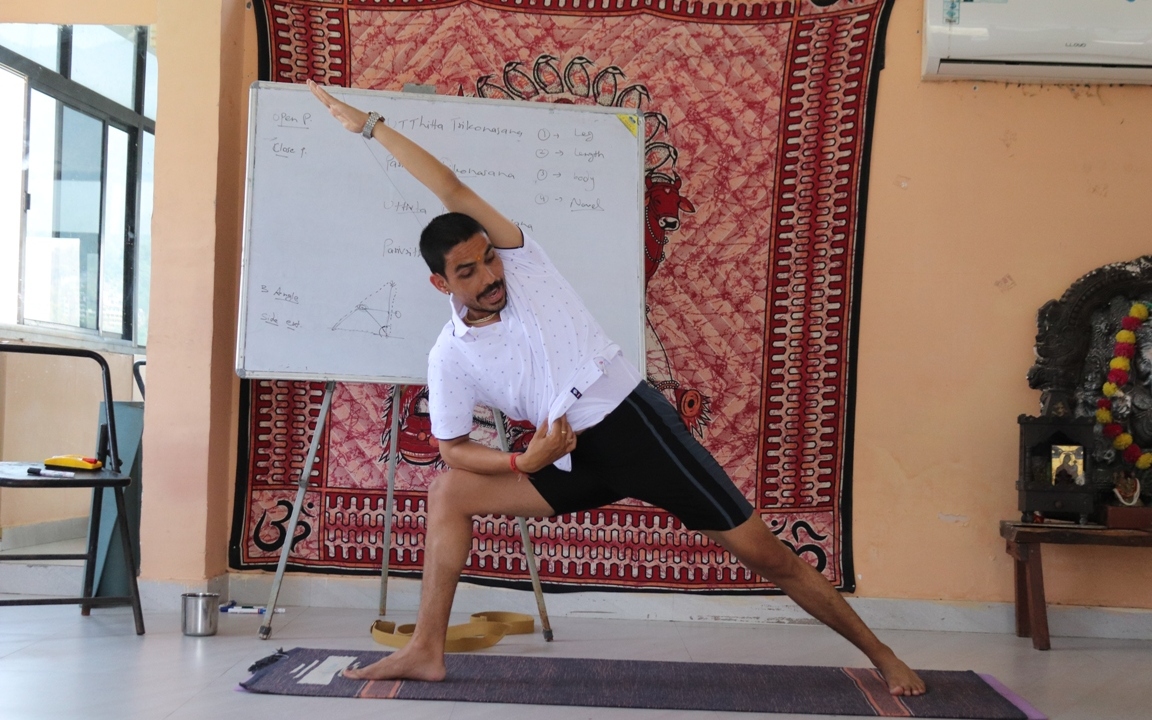 Our online yoga classes are not only designed to offer physical benefits such as flexibility, strong and active body or appearance. These classes work on deeper level for holistic health, with combination of three major areas of human life:
1- Physical
2- Mental
3- Spiritual
Yoga is a practice that deeply impacts all those levels of life which are very essential to a living person. It is not the practice of body only. it is a process of spiritual development. And keeping in mind all these important things, we have conducted yoga classes. This classes are conducted online to all yoga aspirants who want to bring spiritual transformation in their life through yoga.
These classes are completely live. You can make or organise your life better by coming regularly in these classes according to your time. You will also receive recordings after every classes finishes, so if you want to see and understand these classes again, you can avail. Our aim is to bring yoga to all around the world. Yoga is one such medium which provides you physical mental and spiritual healthiness.
Regular yoga classes online with Prashant J Yoga and Yoga Vidya School Team are an excellent opportunity for people who are looking for healthy lifestyle or knowledgeable yoga classes but they are busy and cannot physically visit our yoga school in Rishikesh. Though you can watch many insightful yoga videos of Prashant ji on his Youtube Channel: Prashant J Yoga, but practicing live with him and our team is highly beneficial especially if anyone want to develop a regular routine and practice.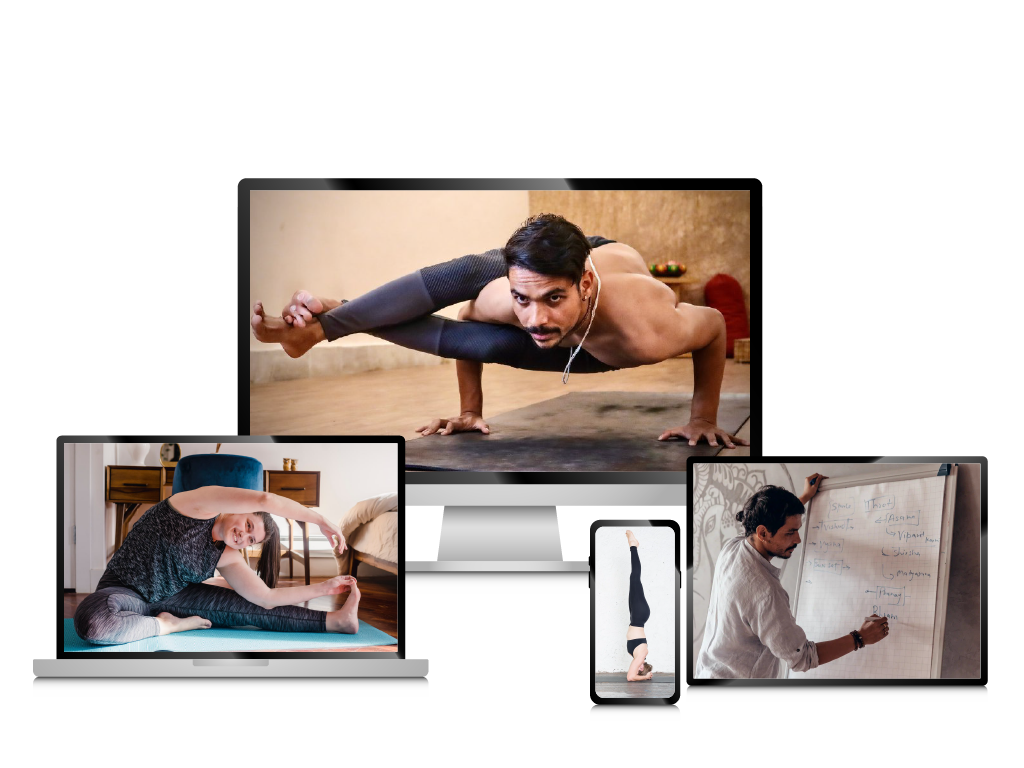 Highlights of Online Yoga Classes at Yoga Vidya School
1. All the attendees are first assessed to understand their requirements and level of practice, and then we offer yoga classes accordingly to ensure safe and effective yoga practice.
2. Maximum Individual Attention
3. 4 Days A Week Live Practice with Teacher (We motivate self-practice on off-days for better result and to avoid your dependency on teachers)
4. Access Recordings
5. Q & A and Direct Interaction with Teacher
6. Group Discussion in Whatsapp Group
Requirements to Join Online Yoga Classes
1. Laptop/ Smart Device with Good Internet Connection
2. Zoom App for Live Streaming and Recordings
3. Yoga Mat, Yoga Bolster, Meditation Cushion and Yoga Belt
4. Well-ventilated and Clean Space (Try to choose same place or space everyday)
5. Enough Space to Move Your Body Openly and Distance from Device for Better Visibility
6. Group Discussion in Whatsapp Group
Choose the Online Yoga Class and the Time Slot You Like
| Time | Teacher | Fees |
| --- | --- | --- |
| 5:30 AM - 6:30 AM (IST) | Anuj ji | Rs. 1499/USD 30 |
| 6:30 AM - 7:45 AM (IST) | Prashant Jakhmola | Rs. 2999/USD 50 |
| 7.30 AM – 8.30 AM (IST) | Shivam Joshi | Rs. 1499/ USD 30 |
| 5.30 PM – 6.30 PM (IST) | Taniya Verma | Rs. 1499/USD 30 |
Monday –Thursday (Live Sessions)
Friday – Sunday (Self Practice)
The Easy Start& Stick With It Plan
1. Book a Class Here or Contact Us on Whatsapp: +919818660954
2. Login to Zoom and Join the Class
3. Start your Practice.
We are always there to support and motivate you to achieve your aim.
Apply Now
Course Fee:


Rs. 1499 (Indian Bank Accounts)




USD 30 (Foreign Bank Accounts)
Our new online yoga batch starts on first Monday of every month
Focuses on Asana (dynamic and static) and ancient pranayama series, these morning yoga sessions will be helpful for all the seekers who wants to learn the ancient yogic method to keep the body and mind healthy and energetic throughout the day.
What you will Learn in Online Yoga Classes with Prashant J Yoga and Yoga Vidya School
1 - Proper way of practising Asana and Pranayama
2 - Alignment of each asana practice
3 - Modification of practice according to individual limitations and strengths
4 - Maximum Individual Attention to each student
5 - Shatkarma (yogic purification) such as neti practice
Benefits of these Virtual Yoga Classes
1 - Calm your mind and develop the stability of thoughts
2 - Improved physical and mental health
3 - Spiritual Growth
4 - Develop the habit of spiritual practises every morning
5 - Boost stamina and develop strength and flexibility
6 - Feel free from sufferings, physical and mental
7 - Increase productivity
*Class will be 4 times a week (Monday to Thursday)
Recordings will be available as per need of an individual (if time doesn't match for you)
Fee:
Classes with SHIVAM JI at 07:30-08:30 AM – Rs. 1499/ USD 30 for month
Classes with PRASHANT JI at 06:30-07:45 AM – Rs. 2999/USD 50 for month
Classes with Anuj Ji at 05:30-06:30 AM - Rs. 1499/USD 30 for month
Classes with TANIYA VERMA at 05:30- 06:30 PM -Rs. 1499/USD 30 for month
How to Book:
You can book your seat by depositing the fee through three payment options
Paypal : https://www.paypal.me/yogavidyafoundation
Gpay/PayTM/UPI: 9897119394
Bank Transfer:
Kotak Mahindra Bank-
Account no - 4246912943
Name - Wellness Retreat By YVS LLP
IFSC Code - KKBK0001382
Branch - Mumbai Kalanagar Bandra East Br
Once payment is done, please send screenshot for confirmation.
Once we get the payment, we will add you to the WhatsApp group, which will get created 3-4 days before the classes begin.
Join us and become a part of this yogic and healthy community.