100 Hour Yoga Teacher Training
Join 100 Hour Yoga Teacher Training Course at Yoga Vidya School in Rishikesh, which is globally known for yoga courses along with yoga alliance approved. Yoga Vidya school has pledged itself to share and spread the knowledge of yoga by becoming a beacon of light. Our yoga gurus or experts are certified teachers and they have designed specialized unique yoga courses to transform students into a certified yoga teacher and passionate practitioners.
This best 100 Hour Yoga Teacher Training in Rishikesh, India is for all level of students coming for yoga in Rishikesh, as we can say that yoga in India. This course is for people who are fit, want to dedicate themselves to this inner spiritual practice, want to learn Yoga and believe in spreading knowledge, want to inspire, want to bring more happiness and peace into their lives. Let's illuminate the yoga path and enlighten the journey of self-soul realizing.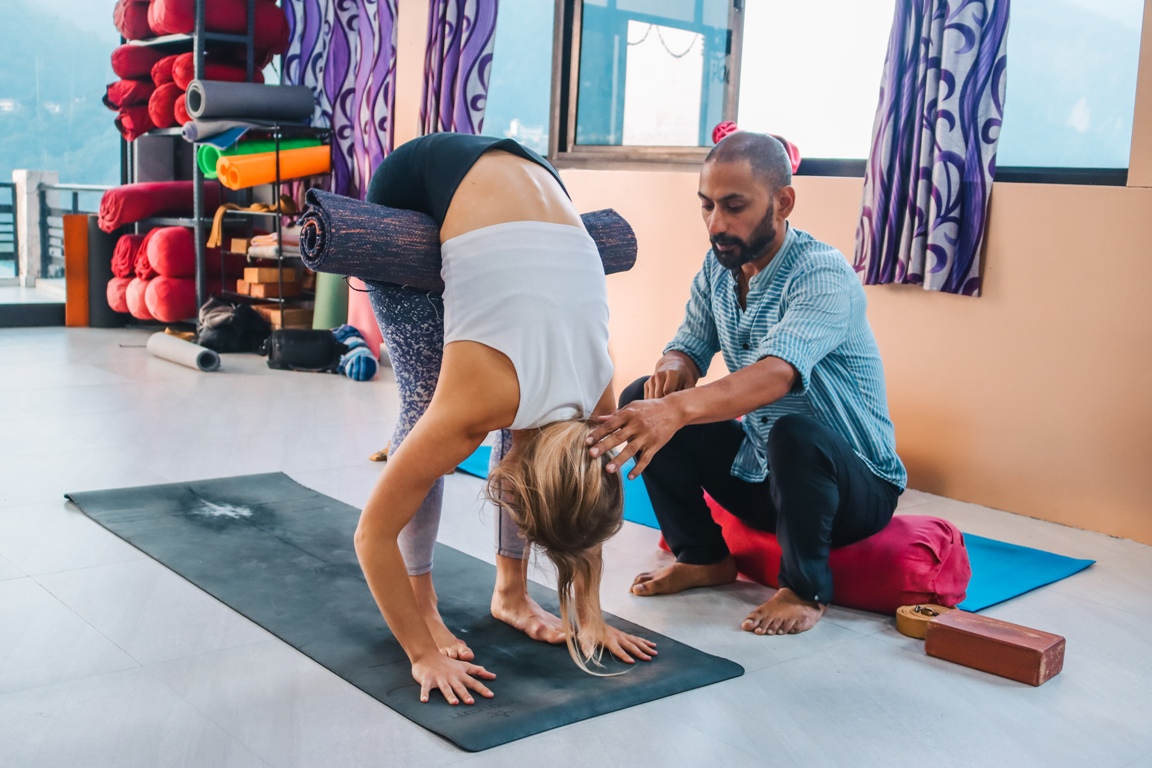 Curriculum
Core principles of Hatha Yoga"The Hatha yoga training is a simple way to make the body more strong in preparation for climbing the steps of yoga."Primary series of Ashtanga Vinyasa"Ashtanga Vinyasa yoga is a dynamic practice of yoga, coming from the ancient yoga of mind. Mostly it is for balancing the breath and movement for self-realization."
Forward bending, meditative, twisting, backward bending, relaxation, kneeling, inverted, balancing and standing poses
Sanskrit terms and benefits of Asana
Traditional sun salutation series with root mantra
Joints exercise and structuring the postures
Moon salutation series
Yogic breathing
Stress less breathing techniques
Pranayama introduction
Basic Pranayama like Bhastrika, Kapalbhati , etc.
Importance of breath retention and its benefits
Importance of rhythmic and diaphragmatic breathing
Yoga Nidra techniques
Minor and major Chakra relaxation
Deep, Emotional and full body relaxation
All type of mudra like internal mudra, eye mudra, finger mudra
Bandhas like Jalandhara , Moola, Uddiyana
Type of locks in Yogic science, importance of root lock
Pranic gestures , bandha for energy leakage
Origin and history of yoga
Yoga basic introduction, six Indian philosophy of yoga
What is Hatha yoga, Ashtanga yoga( the eight limbs of yoga) and Vinyasa?
3 states and 5 layers of body in Yogic science, main yogic idea, concepts
8 limbs of Raja Yoga, four foundational pillars of life
Kundalini yoga, chakra, karma, Nadi introduction
Techniques of Self observation
Meditation of breath awareness
Body less, third eye, full moon, inner light meditation
Difference between meditation and concentration
Mantras awareness (Mantra sessions)
Chakra awareness
Yogic Respiratory, nervous system
Difference between yoga and other physical exercises
Usage of some important muscles in yogic exercise
Benefits and contradictions of yoga
Alignments, adjustments and modifications
Yoga therapy including:
Yogic spine and joint system
Therapy for a back problem, diabetes etc.
Therapy for Thyroid, obesity
Daily Schedule

for 100 Hour Yoga Teacher Training
| Time | Activity |
| --- | --- |
| 06:00 AM | Tea Time |
| 06:30 AM - 08:00 AM | Asana |
| 08:00 AM - 08:45 AM | Pranayama |
| 09:00 AM - 10:00 AM | Breakfast |
| 10:15 AM - 11:15 AM | Mantra / Alignment & Adjustment |
| 11:00 AM - 12:00 PM | Yoga Philosophy |
| 12:00 PM - 03:00 PM | Lunch & Rest |
| 03:00 PM - 04:00 PM | Anatomy / Teaching Methodology |
| 04:15 PM - 05:45 PM | Asana Practice With Alignment |
| 06:00 PM - 07:00 PM | Meditation |
| 07:30 P.M | Dinner |
What's Included and Not Included
What Does This Yoga Course Package Include?
14 nights shared room accommodation with attached bathroom.
24x7 Filtered drinking water and hot water.
Well-designed Course Material.
Beautiful Bag and School T-shirt.
Shat Kriyas or Yogic Cleansing Kit.
Three nutritious organic meals per day, plus Indian Masala Chai for morning and evening.
Cultural Trips and Excursions that include sunrise trek in Himalayas and visit to spiritual caves, ashrams, waterfalls and nearby villages.
WiFi and Beautiful sitting area to study and spend quality Me-time
On-call Doctor and Emergency Services.
What Is Not Included In This Yoga Package?
Additional Charges for Private Room - $200 USD.
Additional Charges for Air-Conditioning Room - $150 USD.
Additional Charges for Pick and Drop and for any taxi services.
Accommodation
For yoga practitioners and 100 hour yoga teacher training students, we have created a beautiful venue in the midst of Himalayan forest of Rishikesh. The beautiful rooms have natural light, fresh air and modern comforts such as Hot Shower, Wifi, Western Toilets, comfy Linens, Towels, etc. An open sitting and resting area with beautiful views of the Himalayas and the sunset makes our venue one of the best facilities of the town.
Food
Blessed with a beautiful in-house kitchen along with experienced Indian Ayurveda cooks, we offer delicious and healthy meals to our yoga guests. The food is cooked with love and hygiene to ensure best food is served to our guests. Our specialities are Indian curry vegetables, khichri, flavoured rice, pulses or lentils. We procure fresh fruits, vegetables, and other ingredients from organic vendors. In addition to three vegetable meals, we also offer herbal tea and Indian Masala chai two times a day.
100 Hour Yoga Teacher Training Course Fees
Covers
Havan Ceremony
2 Weeks of Tuition
Accommodation
Bed Sheets, Blankets and Towels
3 Vegetarian Meals

Morning + Evening Tea/ Indian Chai
Cleansing Kit
Course Manual, Books and Notebooks
Internationally recognised Yoga Alliance Certificate
Visit to Local Attractions
Celebration of Indian Festivals
"The liberty, the inside oneness and openess that I felt after Prashant's classes always fullfilled me. I could feel the energy rising as well as the expansion of my limits. It is with a deep work of precision, humor, gentleness and perseverance that he gives his class. Prashant allowed me to go deeper on my and others and open new pathways. He's on of those who inspire and stays next to you for time ahead. Thank Prashant to have align me in so many ways and brought me further on. See you soon"
EMMA
"I believe Yoga Vidya School's 200 hour yoga teacher training can change anybody's view on Yoga and its practice. The course teach you about real yogic lifestyle with its true meaning. The yoga teachers of this school have rich knowledge of all the aspects and principles of Yoga and goes deep into it to make it accessible to all level of students. Mantra and philosophy classes can give you a whole new energy. Another important factor that make this school the best, is its location away from the crowd of hotels and yoga schools of Rishikesh. The place is blessed with nature, making you feel like a real yoga retreat in jungle."
ELINEKL
Frequently Asked Questions
People who have interest in Asana, pranayama, meditation, physics of yoga techniques, breath concentration, alignment of the body, the anatomy of the self-body, can join 100 Hour Yoga Teacher Training in Rishikesh. The course is designed for students also who are beginners in yoga and want to learn the yogic practices with or without prior knowledge and experience of same.
The course is designed for Students also who are the beginner in yoga and want to learn the yogic practices with or without a prior knowledge and experience of same.
Who have less time and not ready for the whole month course. They can attend the first two weeks of 200 Hour Yoga Teacher Training Course in Rishikesh, and complete this 100 Hour Yoga Teacher Training Course in Rishikesh, India. Whenever they are ready, they can come and complete 200-hour teacher training course with the last two weeks by attending final exams of 200-hour YTTC and they will get 200 hours Yoga Alliance certification. This 100 Hour Yoga Teacher Training in Rishikesh, India is certified by the school, but if you want to become RYT (Registered Yoga Teacher by Yoga Alliance), have to complete a 200 Hour Yoga TTC.
The purpose of the 100 Hour Yoga TTC in Rishikesh is to introduce you to the world of Yoga. This Yoga Teacher Training course Rishikesh is designed to acquaint the potential yoga enthusiast on a journey of a fulfilling life, happiness and multi-dimensional thought process. With deep insight on practical and theoretical knowledge attained in the course of this 100 hours in an interactive atmosphere, this Yoga Teacher Training Rishikesh India is the stepping stone of your and yoga's love affair.