300 Hour Yoga Teacher Training In Rishikesh
Yoga Vidya School is a traditional yoga school, which is globally known for yoga courses along with Yoga TTC Certification in Rishikesh India, the birth land of yoga. Yoga Vidya school has pledged itself to share and spread the knowledge of yoga by becoming a beacon of light. Our yoga gurus or experts are certified teachers and they have designed specialized unique yoga courses to transform students into a certified yoga teacher and passionate practitioners.
This 300 Hour Yoga Teacher Training in Rishikesh India is for 200 Hour Yoga TTC Rishikesh India certified yoga practitioners coming deepen their skill by joining Yoga Classes in Rishikesh, India. This Yoga course is for people who are fit, want to dedicate themselves to this inner spiritual practice, want to learn Yoga and believe in spreading knowledge, want to inspire, want to bring more happiness and peace into their lives. Let's illuminate the yoga path and enlighten the journey of self-soul realizing.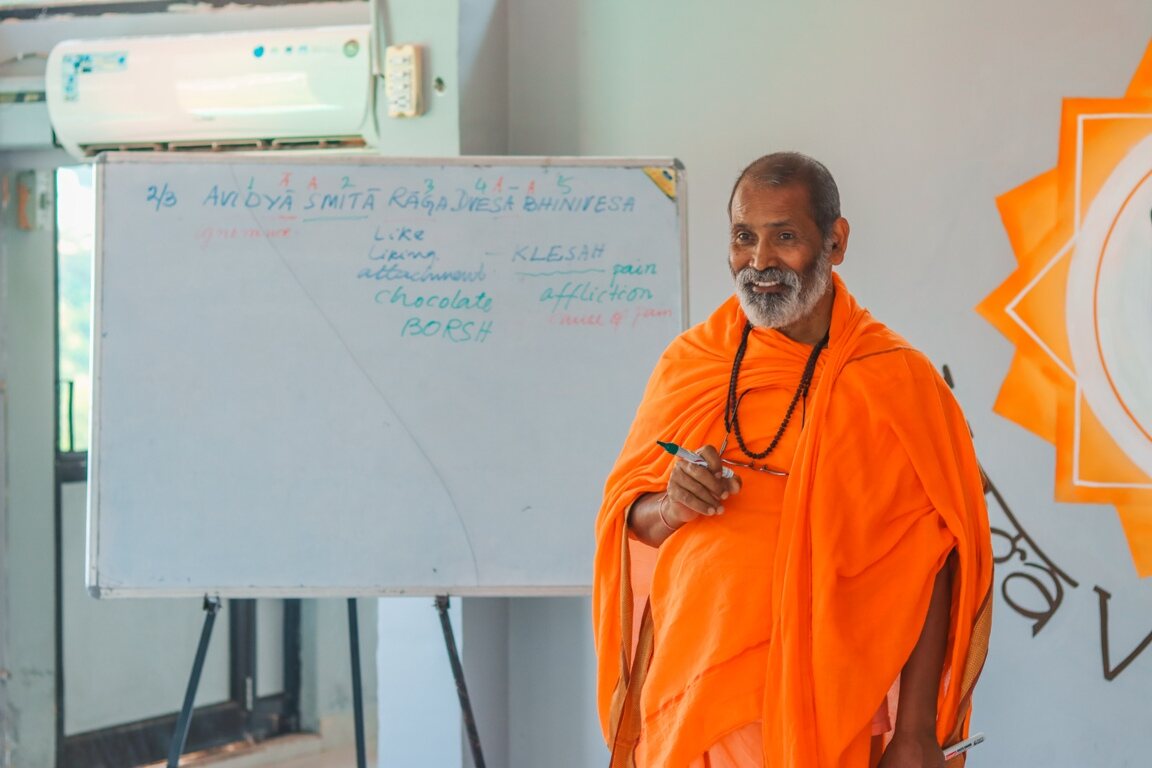 Curriculum
Advanced practice of hatha yoga
Preparatory practices of asana
Hatha yoga practice from hatha yoga pradeepica
Difference between sun salutation and moon salutation
Hip opening sequence
Two main join opening series
Timing to stay in one pose
Teaching guidance practice of hatha yoga
Practice of hand stand
Arm balancing sequence
Grounding sequence of asana
Benefits of inversions in the practice
Sivanada yoga sequence
Difference between hatha yoga and raja yoga practice
Dynamic practice of hatha yoga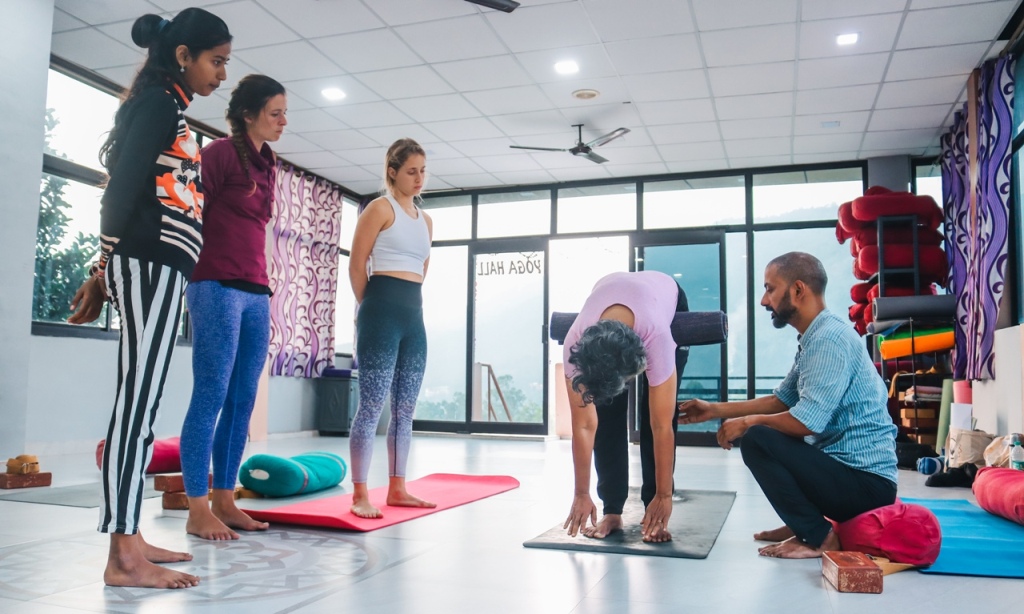 Surya bhedi pranayama sequence
Practice of swara yoga
Swara yoga practice to control the energy flow
Pranayam practice for eda nadi, pingala, nadi and sushumna nadi
Pranayam practice with locks
Advance practice of bhramari pranayama
Balancing sequence of kapalbhati pranayama, seetali pranayama, bhastrika pranayam, seetkari pranayama.
Inner cleansing pranayam technique
Pranayam for stress releasing
yana mudra
Vishnu mudra
Ashwani mudra
Nasagrai mudra
Practice of khechari mudra
Jalandhar Bandha
Moola bandha
Uddiana Banda
Practice of maha Banda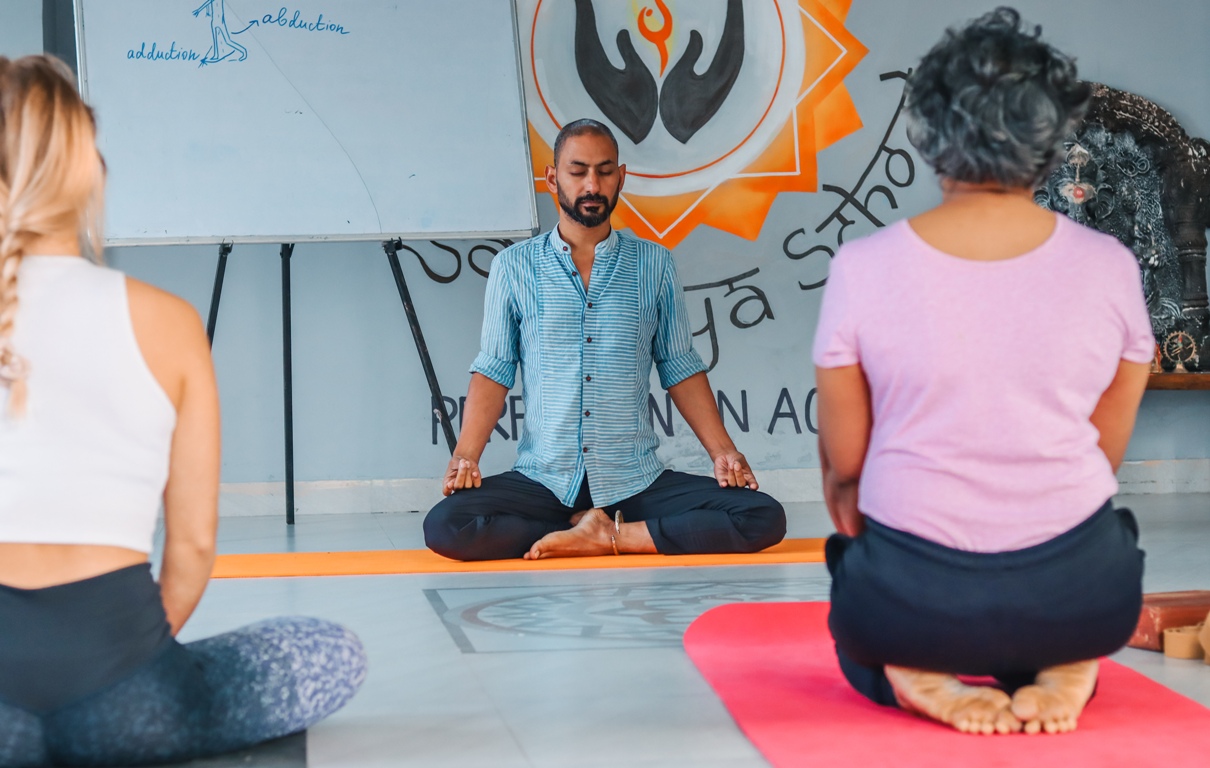 Agnisara kriya
Practice of naoli kriya
Vamavritta naoli kriya
Dakhinavritta naoli kriya
Practice of rubber neti and sutra neti
Sankhaprakshalana(full body cleansing)
Full primary series
Practice of second series of ashtanga vinyasa
Backbend sequence
Philosophy of ashtanga vinyasa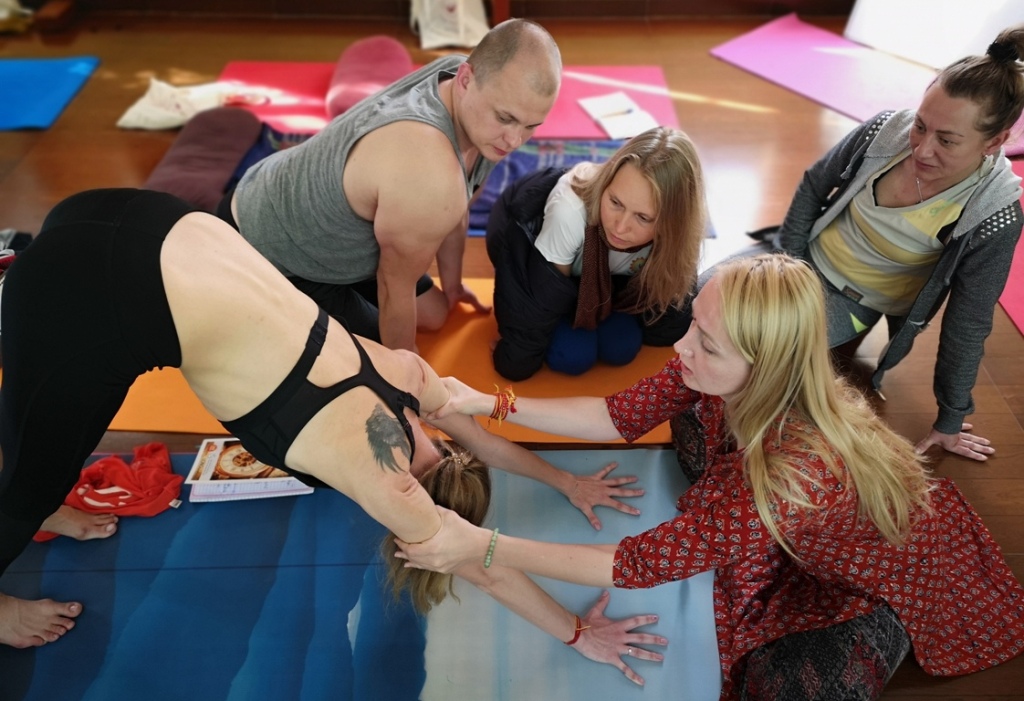 Advanced study of muscular system
Role of yogic practice in nervous system
Circulatory system in yogic practice
How to talk with the body during the intense yogic practice
Energy flow in inversions
Body work in yoga practice and in other practice
Yoga for back pain
Yoga practice for migraine
Yoga sutra patanjali third chapter (vibhuti pad)
Patanjali yog sutra (Samadhi pad, sadhana pad)
History of yoga
Purusha and prakriti
Yogic explanation of "ha" and "tha"
Stories of ancient yogis and their powers
Philosophy of meditative mind
Chatusthay purusharta by sankhya yoga
Bhagvat geeta
Gherand samhita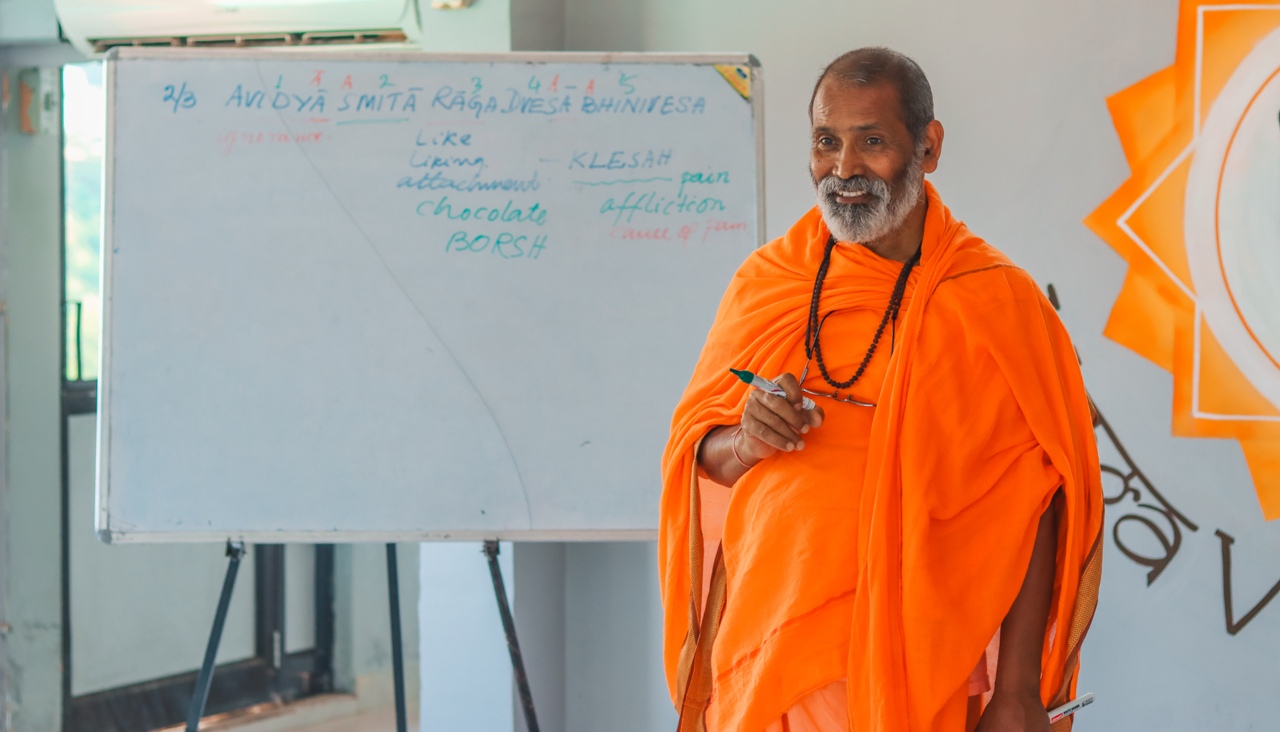 Self-improvement technique
Alignment of advance asana
Science of asana
6 steps of doing the asana
How to breakdown the pose to get the right alignment
Yoga workshop( back bend, inversion)
Self-adjustment to improve the comfort with effort
Hands-on adjustment (light, strong)
How to know the level and capacity of the students
Preparation of the sequence for the special need(like hip opening)
Technique to adjust others with the safety
Commands on instruction
Quality of the teachers
Quality of the instruction
Yoga sequence for self-practice
How to choose the asana as per the body need
How to listen the body in the practice
Reason of the asana in animal name
Purpose of the asana practice and its goal
Philosophy of asana and pranayam according to shastras
Hand balance practice
Detailed study of 20 intermediate asana
Food mantra
Guru ashtakam
Adiguru shankaracharya mantra
Bhagvat geeta shloka chant
Patanjali mantra
Yoga bhajan and sloka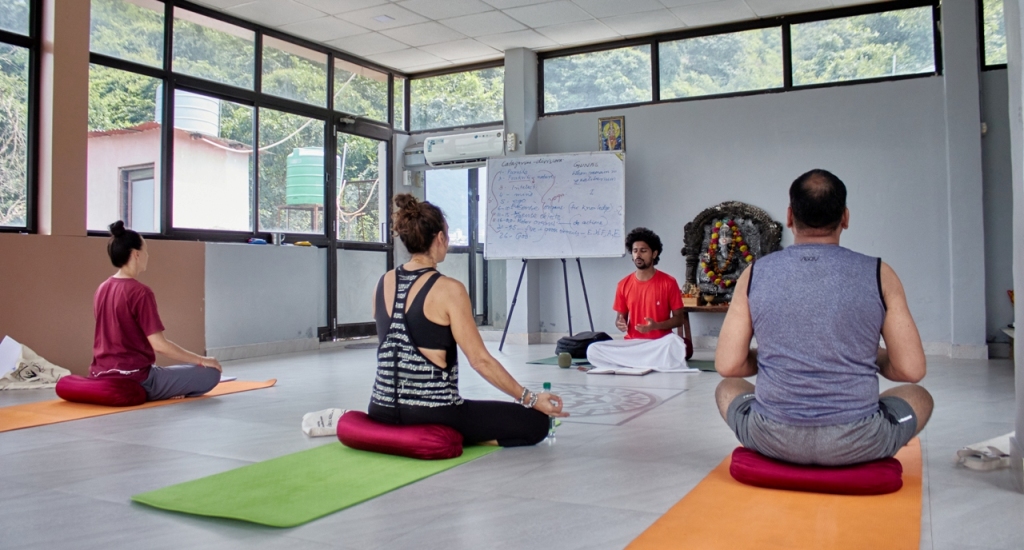 Yoga nidra advanced practice for emotion
Deep sleep and turiya sleep
Yoga nidra as a tantric practice
State of self in yoga nidra
Chakra meditation
Sound meditation
Four traditional meditative postures
Prana meditation technique
Connection between yoga and ayurveda
Difference between Yogic and ayurvedic food
Ayurvedic cooking class
Three gunas and their effect in the body
Basic ayurvedic checkup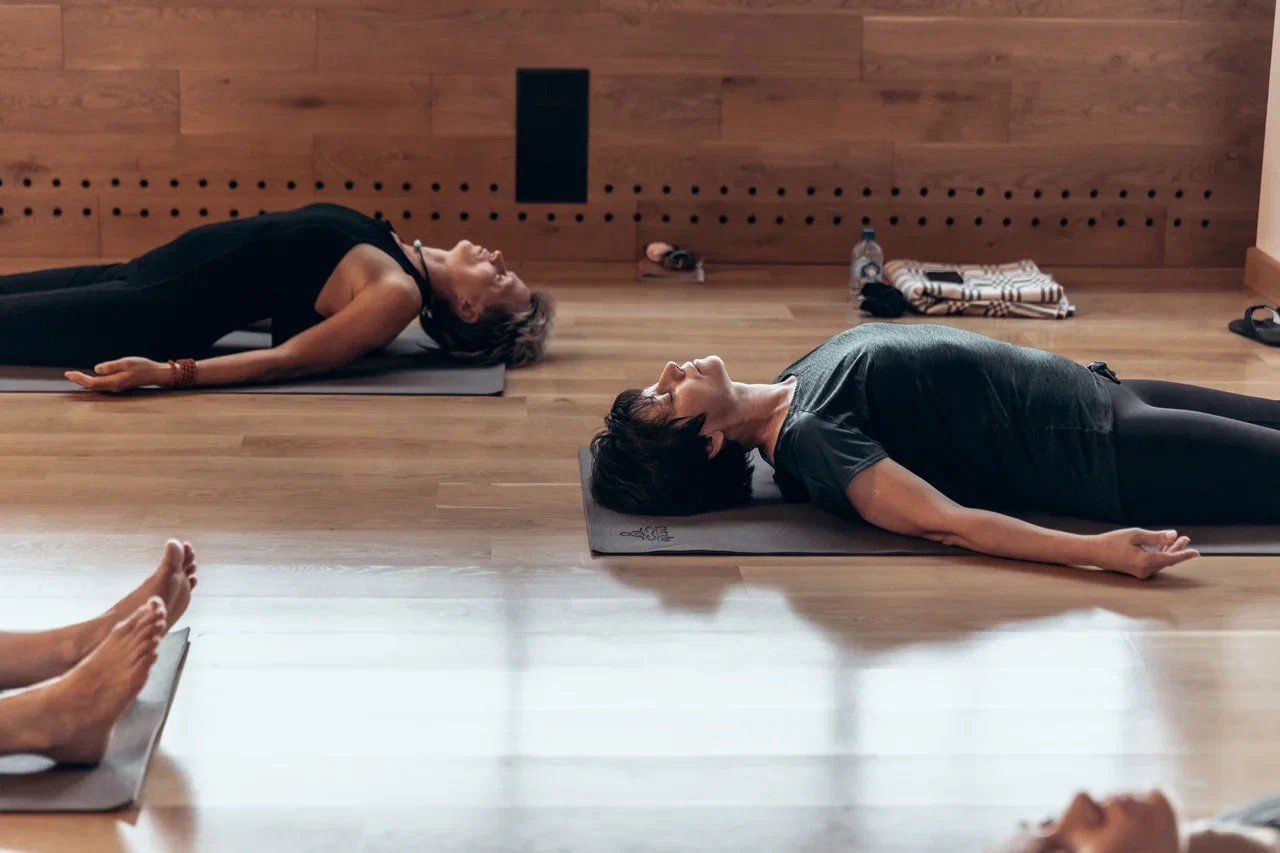 Asana philosophy according to the ancient yoga scripts
Traditional dynamic series of asana and static asanas for long holdings
Techniques to enter in the pose, be in the pose and leave the pose Fundamentals of asana
Contradictions and benefits of each asana
60 asana will be covered during the course from standing series, kneeling asana, sitting asana, prone asana, supine asana, inversions
Heart of Yoga – Yoga Philosophy: studying of ancient scripts to uncover real purpose of yoga
Essence knowledge for practice and teaching – Anatomy and Physiology: Respiratory system, Skeletal system, Articular system, Muscular system, Nervous System
Basement of practice – Shatkriya: theory and practice of cleansing techniques to prepare body for proper practice
Science of sound – Mantra: meaning understanding and learning by heart most important mantras
Science of breath – Pranayama: theory and practice of main pranayama technics
Science of Meditation: practice of different meditation techniques
Yoga teacher foundation – Teaching methodology classes: qualities of a teacher, teaching styles and sequence preparation
Daily Schedule

for 300 Hour Yoga Teacher Training In Rishikesh
| Time | Activity |
| --- | --- |
| 06:00 AM | Tea Time |
| 06:30 AM - 08:00 AM | Asana |
| 08:00 AM - 08:45 AM | Pranayama |
| 09:00 AM - 10:00 AM | Breakfast |
| 10:15 AM - 11:15 AM | Mantra / Alignment & Adjustment |
| 11:00 AM - 12:00 PM | Yoga Philosophy |
| 12:00 PM - 03:00 PM | Lunch & Rest |
| 03:00 PM - 04:00 PM | Anatomy / Teaching Methodology |
| 04:15 PM - 05:45 PM | Asana Practice With Alignment |
| 06:00 PM - 07:00 PM | Meditation |
| 07:30 P.M | Dinner |
What's Included and Not Included
What Does This Yoga Course Package Include?
28 nights shared room accommodation with attached bathroom.
24x7 Filtered drinking water and hot water.
Well-designed Course Material.
Beautiful Bag and School T-shirt.
Shat Kriyas or Yogic Cleansing Kit.
Three nutritious organic meals per day, plus Indian Masala Chai for morning and evening.
Cultural Trips and Excursions that include sunrise trek in Himalayas and visit to spiritual caves, ashrams, waterfalls and nearby villages.
WiFi and Beautiful sitting area to study and spend quality Me-time
On-call Doctor and Emergency Services.
What Is Not Included In This Yoga Package?
Additional Charges for Private Room - $200 USD.
Additional Charges for Air-Conditioning Room - $150 USD.
Additional Charges for Pick and Drop and for any taxi services.
Accommodation
We are blessed with a beautiful building, surrounded by lush green flora and fauna of Himalayas. This 15 -rooms building for 300 hour yoga teacher training students in Rishikesh is a peaceful and comfortable place to rest and relax during the intensive training. Clean linens, Towels, Blankets, Hot Shower, Attached Bathrooms, Wifi Connection is available for all the rooms.
Food
Bring your yoga practice to the dining table by applying Sattvic and Ayurvedic principles to your eating habits. We offer three vegetarian meals in a day that enhances healthiness and clarity to whole body and mind. Our cooks and kitchen team has rich experience of preparing Indian delicacies like Vegetable curries, Dahls or Lentils, multi-flavoured rice etc. The organic ingredients like spices, wholegrains, herbs, teas, honey are sourced from local villages and the best vendors of the town.
300 Hour Yoga Teacher Training Course Fees
Covers
Havan Ceremony
4 Weeks of Tuition
Accommodation
Bed Sheets, Blankets and Towels
3 Vegetarian Meals

Morning + Evening Tea/ Indian Chai
Cleansing Kit
Course Manual, Books and Notebooks
Internationally recognised Yoga Alliance Certificate
Visit to Local Attractions
Celebration of Indian Festivals
Upcoming Events
START DATE
END DATE
AVAILABILITY
"The liberty, the inside oneness and openess that I felt after Prashant's classes always fullfilled me. I could feel the energy rising as well as the expansion of my limits. It is with a deep work of precision, humor, gentleness and perseverance that he gives his class. Prashant allowed me to go deeper on my and others and open new pathways. He's on of those who inspire and stays next to you for time ahead. Thank Prashant to have align me in so many ways and brought me further on. See you soon"
EMMA
"I believe Yoga Vidya School's 200 hour yoga teacher training can change anybody's view on Yoga and its practice. The course teach you about real yogic lifestyle with its true meaning. The yoga teachers of this school have rich knowledge of all the aspects and principles of Yoga and goes deep into it to make it accessible to all level of students. Mantra and philosophy classes can give you a whole new energy. Another important factor that make this school the best, is its location away from the crowd of hotels and yoga schools of Rishikesh. The place is blessed with nature, making you feel like a real yoga retreat in jungle."
ELINEKL
Frequently Asked Questions
The 300 hour Yoga Teacher Training in Rishikesh India is designed for the intermediate and advanced level of students who have already mastered the beginner level 200 hour teacher training course and are willing to learn the advanced level of Yogic science. This 300 hour Yoga Teacher Training Rishikesh is not for beginners but an advanced Yoga Teacher Training Course in Rishikesh for yoga teachers and yoga enthusiasts to get a deeper insight into yoga to improve their yoga teaching skills. This course is great for learners who are looking for their spiritual growth and better self-discipline with advanced yogic practices.
The main purpose of the 300 hour yoga alliance approved teacher training course is teaching the advanced level learning of yogic practices and yogic philosophy to the students. Our 300 Hour Yoga TTC in Rishikesh India is more for the yoga instructors, yoga trainers and intermediate practitioners to increase their level of clarity. This course is a multi-style teacher training course which involves hatha yoga, ashtanga vinyasa and advanced variations of Yoga from 200 hour yoga teacher training course.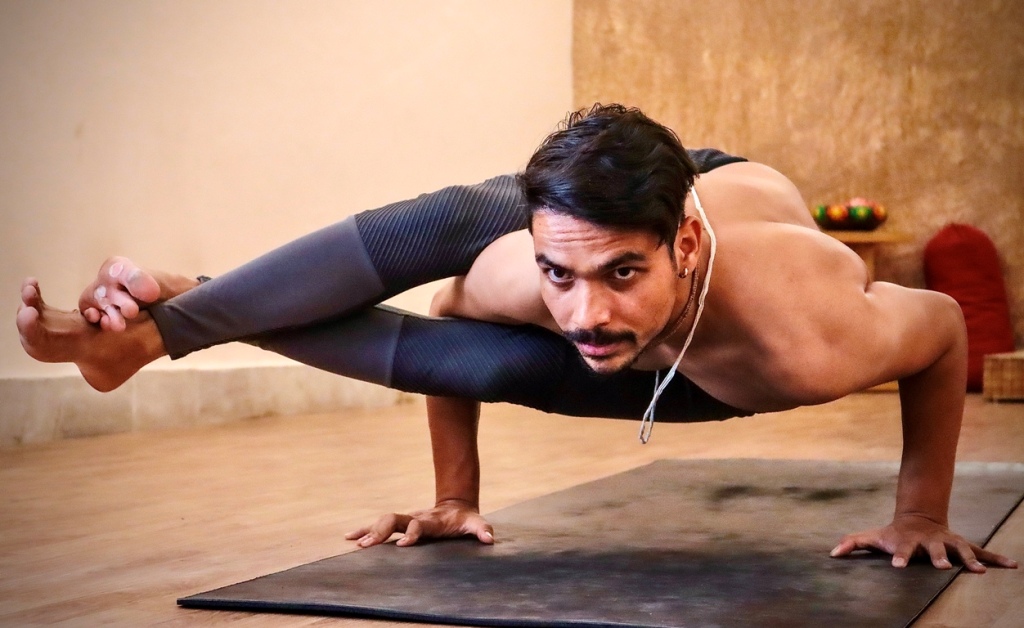 Our 300 hour Yoga Teacher Training course in Rishikesh is designed with the only focus of instilling an advanced level of variations in yoga asana, pranayama for intermediate yogic practitioner, yoga instructors and yoga trainers. This course will be covering advanced level variations of Asana, Shatkarma, Mantra chanting, Meditation, Anatomy, Pranayama, Alignment and advancement, Physiology, Teaching Methodology etc. The students of 300 Hour Yoga TTC in Rishikesh, on weekends, will teach the students of 200 hours teacher training course which will be keenly monitored by our teachers; this will increase their level of clarity of teaching. Learners will also learn the bandhas, mudras and the cleansing techniques for the overall development of their body. Students will also be taken out for Ganga Artis, temples, caves because yoga is not just the knowledge of postures but also the study of nature and one's consciousness.
Our 300 hour Yoga Teacher Training course in Rishikesh, India will include the advanced level practice of Hatha Yoga and Ashtanga yoga/vinyasa, which will help you to improve your skills in these styles and then master one to show your great endeavors to the world. This is an extensive yoga teacher training course with 6 days learning per week 7-8 hours per day. Yoga students will also practice the 2nd series of Ashtanga Vinyasa with advanced level postures and deeper knowledge of nature, philosophy, pranayama and teaching skills.