200 Hour Yoga Teacher Training Scholarship In Rishikesh
Yoga is a holistic practice that aims for the betterment of human society by awakening conscience in people and promoting mental clarity, physical health, and spiritual well-being. At Yoga Vidya School, yoga serves as the quintessential therapy to create balance in life. It is a way of life that uplifts an individual's sense of spirituality and encourages positivity in life. Whether it is meditation techniques, yoga poses, or yoga philosophy, all of it makes you understand the prominence of mental and physical disciplines possessing the power to change your individuality. No wonder yoga has become a global rage, especially amongst health freaks. Practise it on a daily basis and you are set to experience an unprecedented change in your mind and body. And when you are in Rishikesh, the experience is unparalleled.
Yoga Vidya School strictly believes that knowledge should be available to everyone, irrespective of anything. It should be imparted without any kind of discrimination. Consequently, the school has introduced the 200 hour yoga teacher training scholarship program for those who do not have any financial means to access yoga education but are equally passionate to learn its dynamism. It has been introduced to support these individuals, break financial barriers, and promote inclusivity. So, get going now and be ready to enrol for the program!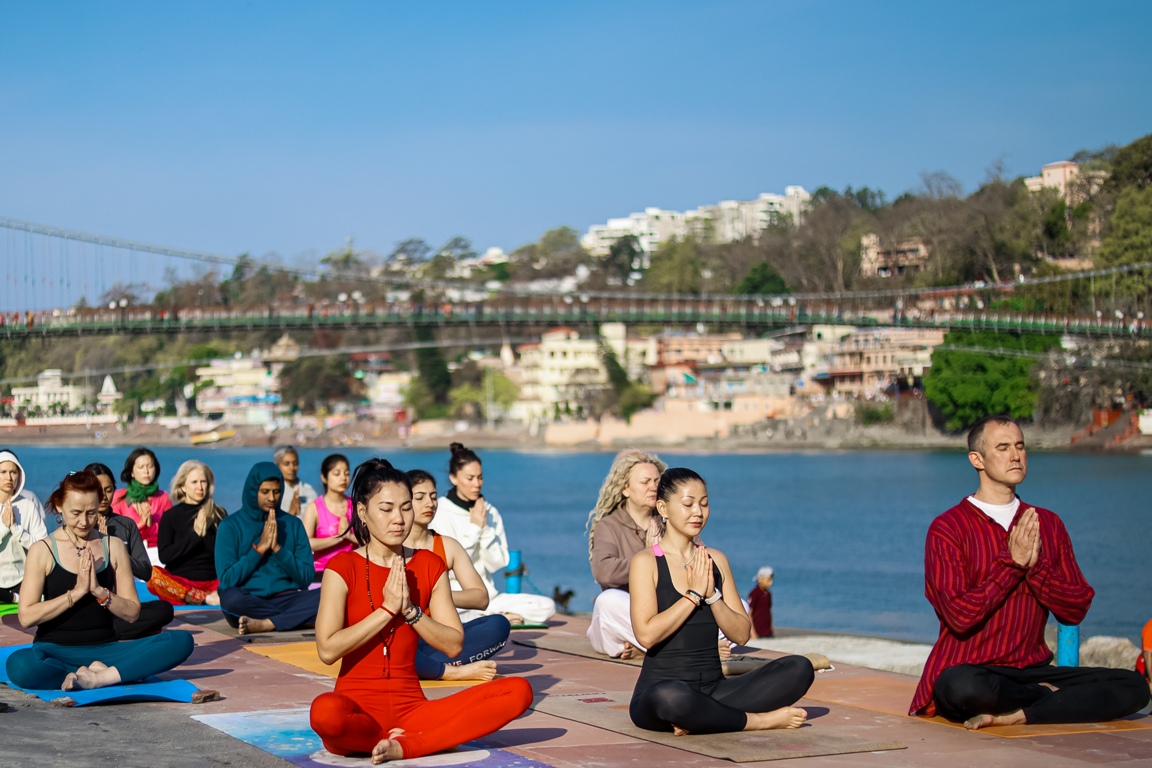 Our 200 Hour Yoga Teacher Training Scholarship Program Overview
The 200 hour yoga teacher training scholarship program in Rishikesh is for all those aspiring yoga teachers who wish to commence their yoga career, learn yoga skills, and deepen their practice without any financial burden. Through our scholarship program:
Avail free tuition with nominal charges for accommodation and food
Get yoga course materials, classroom teaching, outdoor practicals, and expert guidance for free
Get access to Wi-Fi, studying and seating areas, and other such places
Learn about the fundamentals of practicing and teaching yoga including Ashtanga and Hatha Asanas, Pranayama, Meditation, Yoga Philosophy, Yoga Anatomy & Physiology, Sequencing & Teaching Methodology and more
Learn how to create balance in life and bring your mind, body, and soul in harmony with each other using Vedic Traditions.
Practise different styles of Mantra chanting and Mudras.
Receive a Yoga Alliance Certification on the completion of 200 hour yoga teacher training in Rishikesh
Get expert guidance under the supervision of highly-qualified and respected gurus and teachers who have dedicated their lives to the yogic sphere of the universe
Become a Yoga Alliance certified teacher and take your first step towards a successful career as Yoga Teacher or Yoga Instructor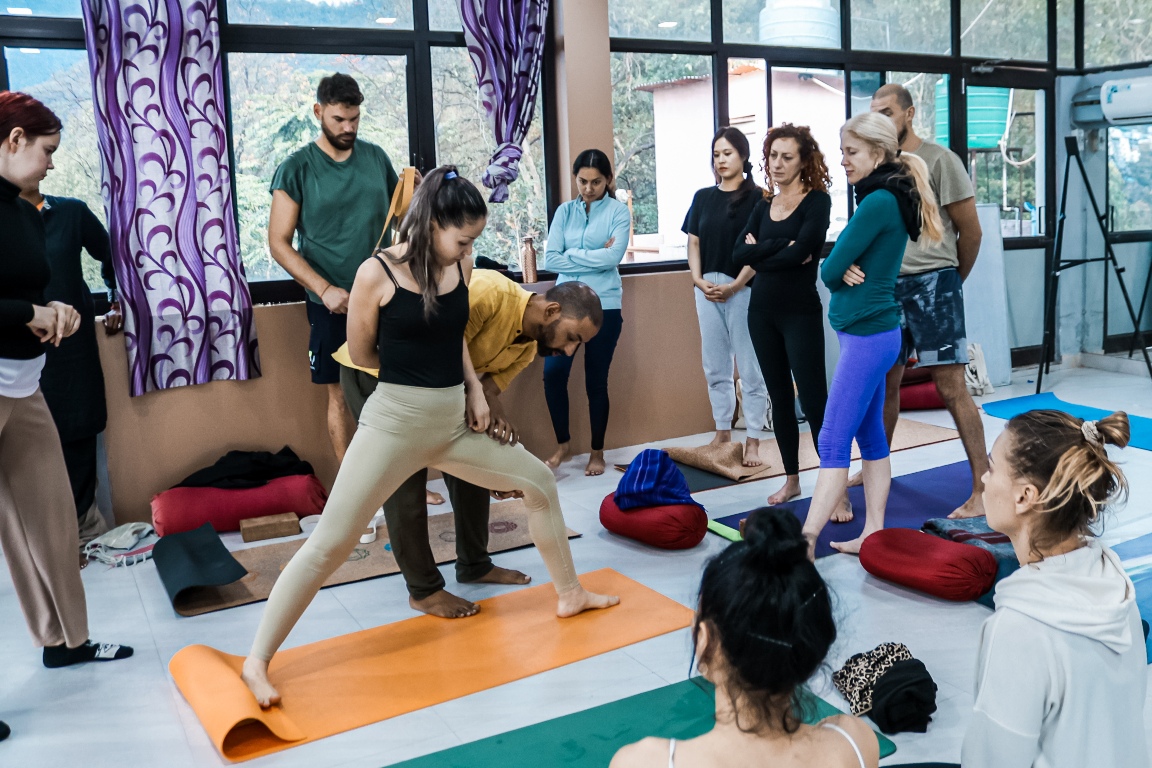 Things You Will Discover In 200 Hour Yoga Teacher Training
The 200 hour yoga teacher training scholarship in Rishikesh is a yoga certification comprehensive training program that helps you get deep insights into the world of yoga teaching. The curriculum has been designed to fit the needs of all the students. Hence, during the course, you will discover:
Fundamentals of yoga styles include Ashtanga Yoga, Hatha Yoga, Yin Yoga, Vinyasa Yoga, etc.
Bandhas and how to perform them flawlessly
How to keep Drishti (vision) focused in your life
The significance of pranayama and why it is important for mindfulness
Scriptures about yoga anatomy and yoga philosophy
How to meditate and get rid of emotional stress, anxiety, depression, etc.
Ways to chant holy mantras and how they help in attaining peace and calmness
Yoga asanas, chakras, yoga sutras, kriyas, and pranic science
The foundations and preliminaries of teaching methodology and the appropriate use of voice and language
Learn how to fight chronic illness and other disorders with the help of Ayurvedic food
Understand yoga ethics, moral values, and creative mindset in detail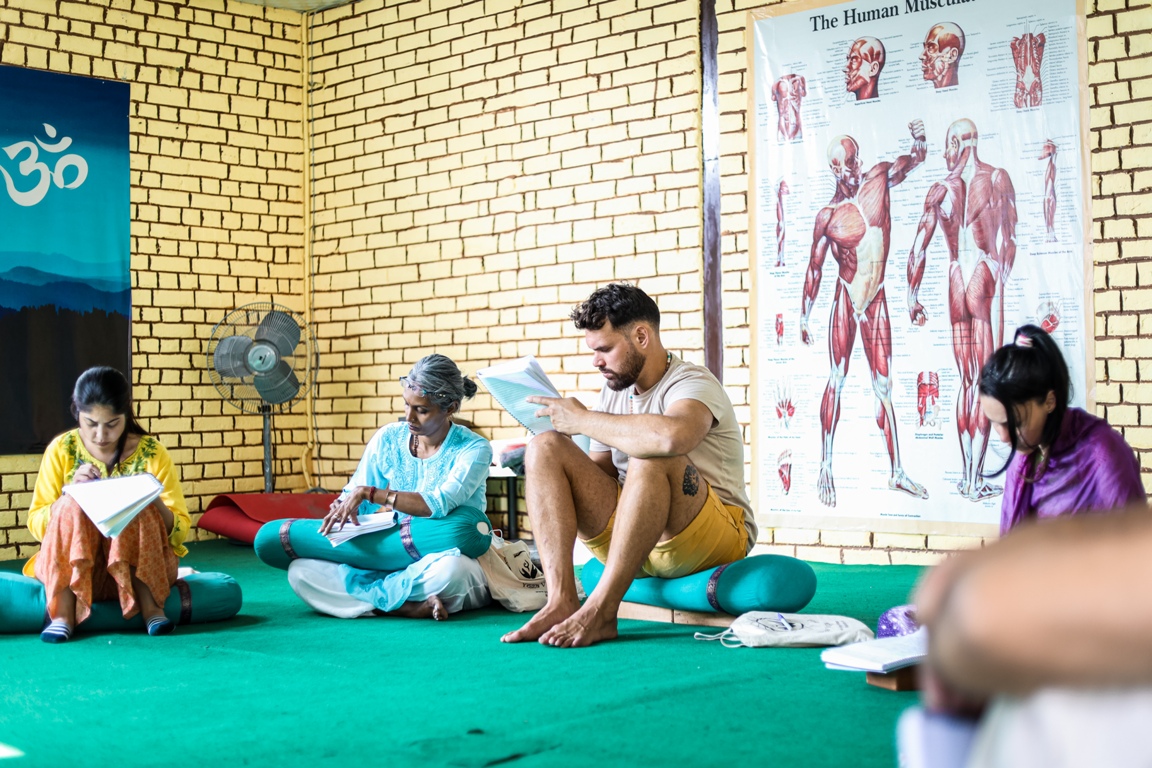 Curriculum
Learn number of Hatha yoga asanas, how to do correctly, their benefits and contradictions. Get insights into the philosophy and principles of Hatha Yoga. Learn about the Pawan Muktasana series, sequence of asanas, and advanced asanas over 4 weeks.
Understand the evolution of yoga through bygone eras and the modern periods. Spanning thousands of years, yoga has a comprehensive and complex history. Why it is important for modern yoga practitioners to understand the history and culture of yoga.
Learn about the philosophical framework of yoga before you move on to practise different asanas and yoga styles. Understand the importance of ethical principles in deepening making your physical and mental energy on a right path of yogic lifestyle.
Learn the deeper layers and levels of primary series of Ashtanga Vinyasa Yoga along with Sanskrit Counting. Anatomical energetics of each Ashtanga yoga asana will be analysed and discussed to make you a correct practitioner and inspiring yoga teacher.
Learn how to control your breath and navigate it towards deeper forming deeper links between the body and mind. Experience the pranic system that is one of the founding principles of the great science of yoga.
Achieve optimal alignment in your body by learning the precise positioning of yoga postures and different techniques for adjustments. Learn how to apply the adjustment and alignment principles to the yogic biomechanics for establishing safe and experiential yoga practices.
Also known as 'dhyana' in Sanskrit, learn how to navigate the mind and body to be in stillness and move towards heightened self-awareness and enter a complete state of mindfulness. A varied meditation techniques are covered from tratka (candle gazing) meditation to dynamic osho meditation.
Also called Yogic sleep, it helps in deep relaxation and rejuvenation of the mind and body by releasing stress and tension. This 200 hour yoga scholarship is an invitation to immerse yourself with deepening into the stillness, a complete surrender to Yog Nidra of self realization.
Learn how to live in a holistic way and incorporate all the principles of yoga in your daily life by considering healthy eating, a peaceful mindset, and self-care.
Lessons on aAyurvedic diet, a balanced diet emphasising whole natural food that would facilitate your yoga practice and keep your mind, body, and soul in harmony with each other.
Learn the basic and important words and phrases of Sanskrit language, a traditional yogic language. Study the foundational texts of yoga in Sanskrit and deepen your understanding of meaning of yoga asanas, texts and philosophies.
How to become an efficient yoga teacher and make yoga a safe practice for students by learning sequencing, verbal cues, demonstration, hands-on adjustments, etc.
What's Included and Not Included
Nominal Fees of USD 500
What Does This Yoga Course Package Include?
28 nights shared room accommodation with attached bathroom.
24x7 Filtered drinking water and hot water.
Well-designed Course Material.
Beautiful Bag and School T-shirt.
Shat Kriyas or Yogic Cleansing Kit.
Three nutritious organic meals per day, plus Indian Masala Chai for morning and evening.
Cultural Trips and Excursions that include sunrise trek in Himalayas and visit to spiritual caves, ashrams, waterfalls and nearby villages.
WiFi and Beautiful sitting area to study and spend quality Me-time
On-call Doctor and Emergency Services.
What Is Not Included In This Yoga Package?
Private Room
Air Conditioning
Additional Charge for Pick and Drop and for any Taxi service.
Accommodation
Food & accommodation at Yoga Vidya School is as good as its serene location. Stay in comfy rooms equipped with all modern facilities including Wi-Fi, western toilets, comfortable bedding, etc. You also have resting and self-studying areas in the school. The compound is extremely neat and clean and provides wonderful vistas of the sunrise and the sunset as well as the Himalayas.
Food
The meals provided at the school align with the principles of non-violence and the sattvic diet. Hence, you get to feast on nutritious food every day that includes fruits, vegetables, grains, legumes, and herbal teas. You have Ayurvedic Indian delicacies such as khichdi, poha, upma, biryani, roti, paneer dishes, and a lot more to nourish your mind and body for optimal health. So, during your stay, wake up to the chirping of birds and indulge in soul-satisfying meals.
Teachers At Yoga Vidya School
Start your yoga journey with highly-qualified and trained teachers and gurus at Yoga Vidya School. These teachers have dedicated their whole lives to Yoga and have been teaching Hatha Yoga, Ashtanga Yoga & more for a long period of time. Hence, they have been successful in providing their students with a supportive and transformative learning environment. Some of the popular and best teachers here include:
Acharya Prashant Jakhmola (the founder of Yoga Vidya School and an expert in pranayamas and asanas)
Swami Atmatattwananda Saraswati (yoga philosophy guru)
Mittra Rawat (Hatha Yoga)
Aparna Sharma (Meditation and Mantras)
"The liberty, the inside oneness and openess that I felt after Prashant's classes always fullfilled me. I could feel the energy rising as well as the expansion of my limits. It is with a deep work of precision, humor, gentleness and perseverance that he gives his class. Prashant allowed me to go deeper on my and others and open new pathways. He's on of those who inspire and stays next to you for time ahead. Thank Prashant to have align me in so many ways and brought me further on. See you soon"
EMMA
"I believe Yoga Vidya School's 200 hour yoga teacher training can change anybody's view on Yoga and its practice. The course teach you about real yogic lifestyle with its true meaning. The yoga teachers of this school have rich knowledge of all the aspects and principles of Yoga and goes deep into it to make it accessible to all level of students. Mantra and philosophy classes can give you a whole new energy. Another important factor that make this school the best, is its location away from the crowd of hotels and yoga schools of Rishikesh. The place is blessed with nature, making you feel like a real yoga retreat in jungle."
ELINEKL
Frequently Asked Questions
Rishikesh is called the Yoga Capital of the World and is home to some of the world's best yoga schools and yoga gurus. It is a holy city with the best spiritual sites, religious centres, and natural beauties. Hence, it is a perfect place for your 200 hour yoga TTC.
At Yoga Vidya School, the 200 hour yoga teacher training scholarship is provided to those who cannot afford to take up yoga coaching. It is done for people to have financial accessibility, promote inclusivity, and great social impact.
1. Free scholarship with nominal charges for food and accommodation
2. Renowned yoga gurus and teachers
3. Comprehensive curriculum covering 14+ subjects
4. Great location with lush green surroundings
5. Yoga Alliance certification
6. Amazing yoga learning experience
Yes! At Yoga Vidya School, the 200 hour yoga teacher training course has been designed for students of all levels.
Once your 200 hour yoga teacher training course is completed, you would be eligible to take up yoga classes at yoga studios, fitness centres, community centres, gyms, health clubs, hospitals, schools, colleges, corporate institutions, and other such places.
No, you do not get any refund for advance payment fees. However, it is transferable to other courses and persons.
At Yoga Vidya School, the batch sizes for the 200-hour yoga teacher training program are small, usually in numbers between 15 and 20, to ensure quality teaching.
Why Choose Rishikesh for Your Yoga Teacher Training?
The Yoga Capital of the World, Rishikesh nurtures a land of mystical tales for it has been in existence since time immemorial. The landscapes here boast of surreal beauties, ranging from towering mountain peaks to colourful grasslands and soothing rivers to holy sites. That's why here you have authentic yoga teacher training schools with world-renowned gurus and an appropriate learning atmosphere. At Rishikesh, you can also experience genuine Indian culture and explore age-old traditions and customs. So, come here and soak in the vibrant energy of the town as you discover the best of yourself.
Excursions During Your 200 Hour Yoga Teacher Training In Rishikesh
The cultural trips and excursions at Yoga Vidya School open up your senses and allow you to explore the depths of your inner self and witness surroundings. Hence, these planned trips make for a valuable addition to the yoga program. Get a chance to explore different environments and integrate yoga into daily life as you connect with mother earth. The mindful movements such as cave exploration and temple hopping would help you explore your meditation skills and deepen your yoga practice.
During your 200 hour yoga teacher training at Yoga Vidya School, you will get to:
Explore Kunjapuri Temple
An experience worth remembering forever! Trek to the top of the Kunjapuri and witness the greatest spectacles of the Himalayas and the settlements of Rishikesh.
Witness the Renowned Ganga Aarti
One of the most popular rituals to witness in Rishikesh, Ganga Aarti at Pramarth Niketan is where you get to be one with the consciousness of the universe. Listen to the chanting of mantras and singing of religious hymns and songs to venture off on your spiritual journey.
Visit Mauni Baba Cave
A significant centre of nature and spirituality and a site of great historical and religious significance, Mauni Baba Cave sits in the midst of the Himalayan forest and is home to a sage named Jatadhari Baba. Visit here and spend some time in its meditative surroundings.