21 Days Ashtanga Yoga Immersion Online
Grab the opportunity to dive into the ancient wisdom and traditional practice of Ashtanga Vinyasa – Primary Series. Covering the historical and philosophical underpinnings of this ancient form of Yoga, this Live Sadhana is created for anyone looking to start or deepen their Ashtanga yoga practice. A best suitable yoga course for those yoga enthusiasts who are looking for traditional, technical and anatomical angles of Ashtanga. In addition, specialised Pranayama and Meditation is also part of this 21 days online yoga course to strengthen inner organs for Vinyasa.
Time : 10:30 AM (IST)
Fee : 120 USD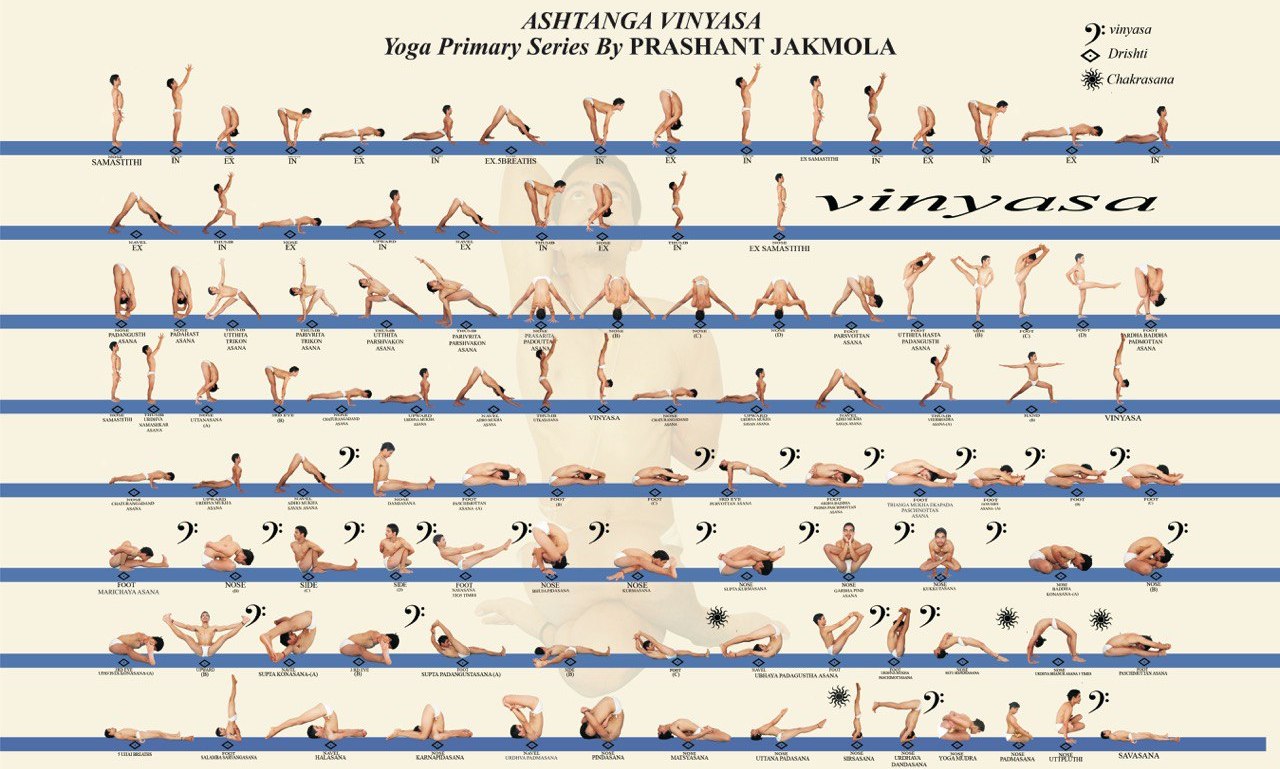 "The liberty, the inside oneness and openess that I felt after Prashant's classes always fullfilled me. I could feel the energy rising as well as the expansion of my limits. It is with a deep work of precision, humor, gentleness and perseverance that he gives his class. Prashant allowed me to go deeper on my and others and open new pathways. He's on of those who inspire and stays next to you for time ahead. Thank Prashant to have align me in so many ways and brought me further on. See you soon"
EMMA
"I believe Yoga Vidya School's 200 hour yoga teacher training can change anybody's view on Yoga and its practice. The course teach you about real yogic lifestyle with its true meaning. The yoga teachers of this school have rich knowledge of all the aspects and principles of Yoga and goes deep into it to make it accessible to all level of students. Mantra and philosophy classes can give you a whole new energy. Another important factor that make this school the best, is its location away from the crowd of hotels and yoga schools of Rishikesh. The place is blessed with nature, making you feel like a real yoga retreat in jungle."
ELINEKL
Frequently Asked Questions
Namaste
I, Prashant Jakhmola, welcome you to the Ashtanga Sadhna (the practice of Ashtanga Vinyasa ) with me.
I am glad to see that you are here and I believe that if you are reading this, it means you are ready to give your ashtanga vinyasa yoga practice a new direction.
The journey of 8 years in Ashtanga Vinyasa Yoga in India, I have seen lot of students changing their life through this practice. This practice, if you understand fully, can bring incredible changes in your life. It can become the best support of your life in any circumstances.
Let's first try to understand this practice
Ashtanga Vinyasa Yoga-
If you are bit familiar with Yoga, you might have heard this name "ASHTANGA"before. but you might not have understood it completely.
If you have heard the name of ASHTANGA YOGA it is likely that you have got a picture of series of Asanas in your mind. And you might be thinking that I'm talking about the practice of Asana. But if you are thinking the practice of Asana is a practice of Ashtanga Yoga, then you need to get your direction and information more accurate.
(The practice of ashtanga yoga and the practice of Ashtanga vinyasa are both different)
Ashta- 8
Anga- limbs
Ashtanga Yoga is the eight limbs of yoga practice which is given by Maharshi Patanjali in his text YOG SUTRA for yoga seekers. This 8 limbs of practice called ashtanga yoga - is an effort to know the self.
No any Asana are mentioned in this practice given by Maharishi Patanjali nor is any Asana been used as a medium to know the self. But yes it is one of the tool which has to be mastered in order to go further in Yoga journey.
Maharishi Patanjali described the eight types of purification for attaining the higher self or enlightenment.
And it is a practice that leads to higher level of spiritual growth by Purifying the body and mind. These practices are:
1. Yama
2. Niyama
3. Asana
4. Pranayama
5. Pratyahara
6. Dharan
7. Dhyana
8. Samadhi
As you can see, Asana is one of the practice of eight limbs given by Maharshi Patanjali. other practices are as important as the practice of Asana in Yoga journey.
Meaning of Ashtanga Vinyasa

Nyasa- to move
Vi - special
Vinyasa is spatial movement of energy (Special expansion of energy in body called vinyasa). Tools are needed for any work. And when it comes to energy expansion in ashtanga vinyasa practice. Asana, pranayama and Dharna have been used as a tool. And these three tools in Ashtanga later became Important pillars of Ashtanga vinyasa practice called (TRISTHANAM)- three places to focus.
Asana- Movement of body
Pranayama- Movement of breath
Dharana- Drishti (Movement of mind)
(These are three important areas to focus during the practice of Ashtanga Vinyasa)
(Special movement of body breath in mind call Astanga vinyasa.)
History of Ashtanga Vinyasa Yoga:
By introducing the word Asana as described by Maharishi Patanjali, the yogis observed various kind of conditions of the body in order to keep the body healthy and steady for Meditation.
And so tradition continued to expand and the various asanas were built.
In the same Hatha Yoga tradition a Yogi was born in 1888 who was named TIRUMALAI KRISHNAMACHARYA. Who have carried the ancient traditional yoga practises to the people and explained them the new art of living a healthy life. (For his noble work he later come to be known as the father of modern yoga)
He arranged the Asana of Hatha Yoga in a series which he discovered from the ancient Yoga text "YOGA KURUNTA", And later he named this special practice "VINYASA KRAMA", KRAMA means sequence or flow.
So the meaning of vinyasa Krama is- "special sequence of Asana".
In this particular types of Asana practice, we expand the Prana by keeping the mind breath and body in a constant direction. He carried this particular kind of practice to the world for many years and shared yoga secrets to people. In his yoga journey many of his disciples were formed, One of them was K PATTABHI JOISE. Who later dedicated his whole life to expend this special practice of vinyasa Krama To many others.
He later dedicated his whole life to this practice in teachings and gave new name as - "ASHTANGA VINYASA," which is taught in South India by his daughter R Saraswathi Joise, and his grandson R. Sharath Joise.
Ashtanga vinyasa practice has six levels.
These are:
1. Primary Series (Yoga Chikitsa) - Yoga Therapy
2. The intermediate series- (Nadi Shodhan)- Purification of Nadi
3. The Advanced series- (Sthir Bhaga)- Centring of Strength
a. Advanced A - The Third Series
b. Advanced B - Fourth Series
c. Advanced C - Fifth Series
d. Advanced D - Six Series
In our Ashtanga Sadhna online workshop, You will explore the primary series of Ashtanga Vinyasa which is also known as Yoga Chikitsa.
Practice:
1. Every day live sessions with me
2. Records of live session
3. Ashtanga vinyasa chart
4. Understanding of primary series with details.

Bonus You Get in Virtual Ashtanga Yoga Immersion
1. Extra recorded sessions about the Philosophy of Ashtanga Yoga
2. Breathing practice video
3. Discussions about the practice
4. Pranayama special for strengthening inner organs for Vinyasa
1. Building your regular routine of your practice.
2. Balanced the body by strength flexibility and sustainability.
3. Knowledge of tradition in ashtanga vinyasa.
4. Improve the dynamic meditation practice.
5. Improve flexibility and strength together with regular practice of ashtanga vinyasa yoga.
6. Build your regular routine of yoga and keep your practice on.
7. Energised and tone your all system with Ashtanga vinyasa practice.
1. Whole primary series with all the traditional instructions
2. Tristhanam practice
3. Understanding of vinyasa
4. Entering and exiting process of Asana
5. Vinyasa jumps
6. Flow with breath
7. Philosophy of ashtanga vinyasa
8. Ashtanga yoga and ashtanga vinyasa difference
9. History of ashtanga vinyasa with its tradition
10. Standing sitting and supines sequences of Asana
11.Connection between breath and the postures
12. Role of inversions in ashtanga vinyasa practice
13. Understanding of full moon and new moon theory of ashtanga
14. Strength flexibility and sustainability practice of Ashtanga
15. Practice of bandhas and use of them in Ashtanga practice
16. Pranayama practice and role of pranayama in Ashtanga
17. Traditional Pranayam techniques of ashtanga vinyasa
18. Traditional name of Ashtanga primary series
19. Meaning and the goal of each Asana
20. Ashtanga vinyasa opening mantra enclosing mantra
21. Correct Sanskrit pronunciation of Asana in ashtanga vinyasa
The course is accessible to all levels. Get started today to deepen your Ashtanga Yoga Practice!
Once you join this course, you will never get confused or lost in Ashtanga. You will have clear picture and direction of the practice, a confidence that will let you enjoy this practice more effectively and safely.